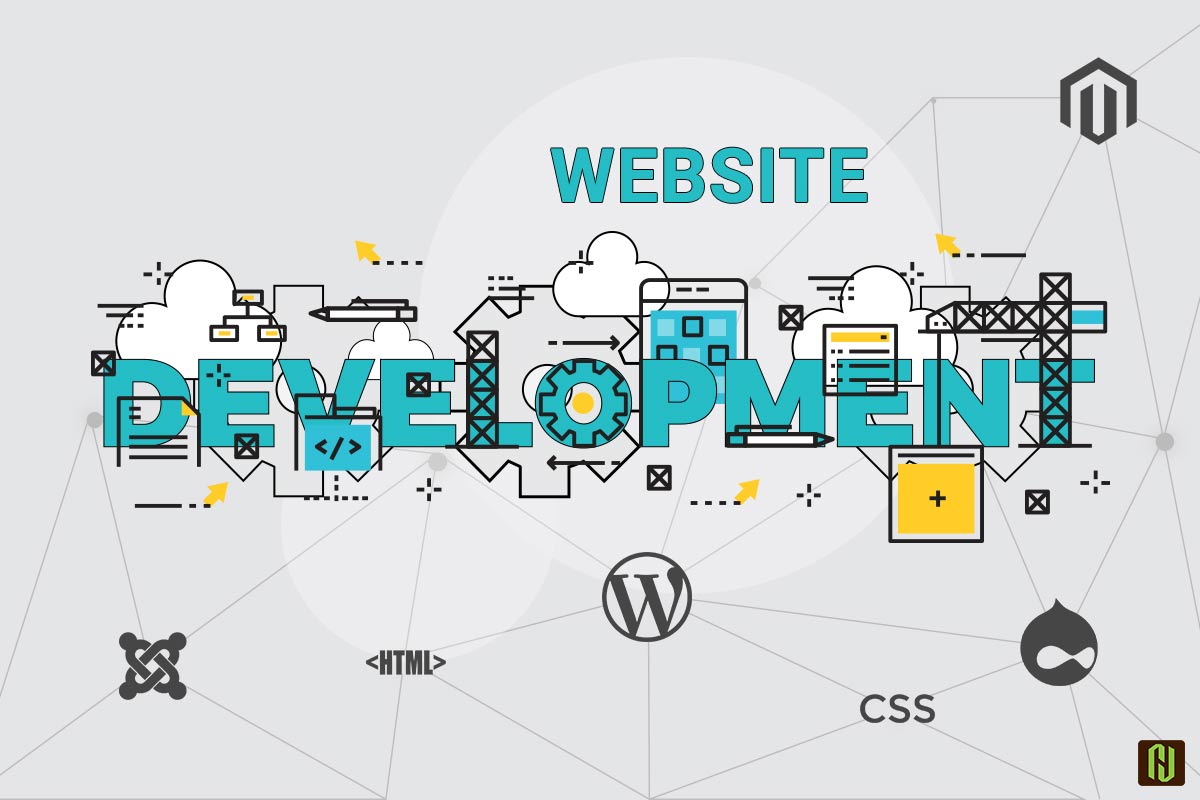 We've come a long way with innovations in terms of technological development time and time again.As a result we have tons of options available for budding website-builders, whether they have an in-depth knowledge of coding or not. If you're ready to tumble upon building a page of your own website, here's what you need to know. This guide will show you how most web developers build their sites and how you can avoid expensive website builders that are often too limited for a bigger site.
Get ready to launch your own website today? Let's get started!
Choose the Right Platform
There are hundreds of different website building platforms and website builders around the market.
WordPress, Wix, Joomla, Drupal… Just to name a few.
You can also code your website from scratch, but I wouldn't recommend it on mainly two reasons:
It just takes too much time (seriously)
Your end result will be mediocre at it's best…
But which one should you choose?
Let's take a look at these recent statistics.
As you can see from the graph above, in 2018, most popular website builders ( content management systems) are:
WordPress (free) 51%
Wix (paid) 7%
Joomla (free) 4%
Squarespace (paid) 4%
Weebly (paid) 2%
Other (paid) 32%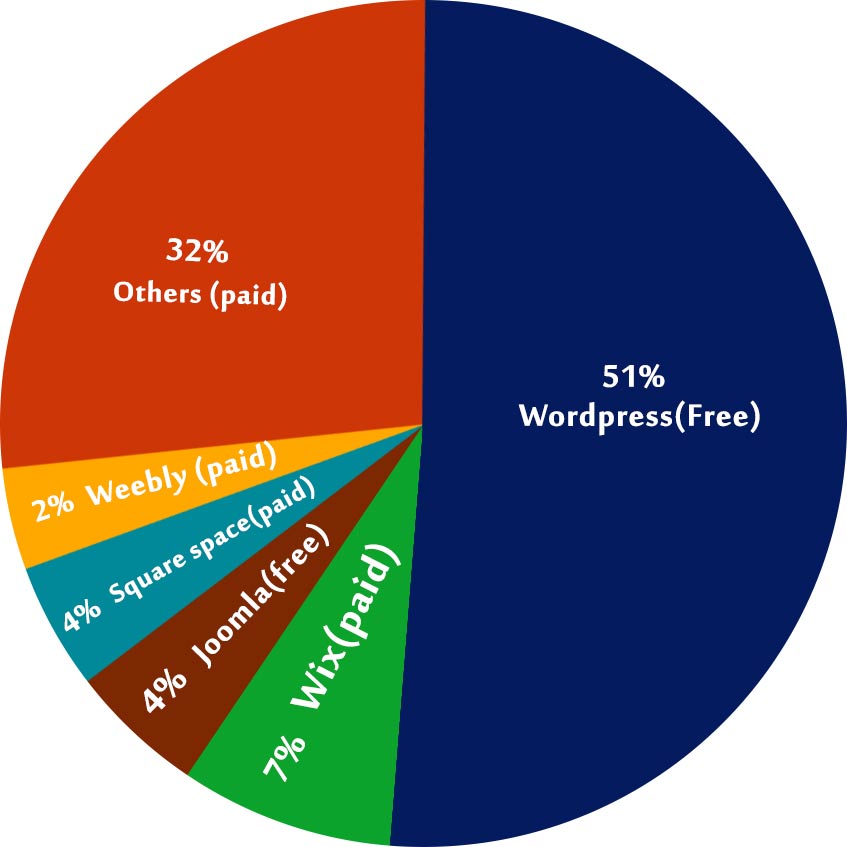 That is why Most People Use WordPress to Build a Website. Unlike other website builders, it's completely free to use.
To get a Domain Name and Web Hosting In order to set up your WordPress, you're going to need two things:
Domain Name (a web address "YourCompanyName.com". )
Web Hosting a medium that connects your website to the internet to manage all your storage of images, content and website files once you are done with web hosting you can access you website content easily. Web hosting is mandatory as your website will be invisible on the Internet without it.
In a nutshell – without a web hosting and a domain name, your website will NOT exist.
Where do I get a domain name and hosting?
There are so many hosting providers available out of which
GoDaddy: Most commonly used
Bigrock: Commonly used
Bluehost: Highest Reliability
HostGator Cloud: Best Cloud Hosting
SiteGround: Best WordPress Host
iPage: Best for Small Website
A Small Orange: Expensive but Reliable
Step:1. Go To www.Bluehost.com or any one of the Web Host
Go to the homepage
Choose a Hosting Plan
Click on"get started now," you'll land to a page to for selecting the hosting plan of your choice for example: Basic, Plus, Choice Plus etc.
If you concerned for the budget, you can use the "basic" plan. It's great for smaller sites with low or no traffic.
Whichever you choose, you can later upgrade or downgrade based on your needs.
Step 2. Choose a Domain Name
While creating a website for your business it should be YourCompanyName.com as your domain name should perfectly match your company name
In case you're planning to set up a website for yourself it should be YourName.com you can choose any domain name to suit your requirement. It's an advice to go with something that perfectly describes what you have to offer – and even then, see if you can find a more common name u can follow these.com, .net or .org. to avoid taking risk.
Step 3. Fill In Your Details:
Go to "Create your account" page and fill in your personal details. Add details faultlessly and accurately. Receipt will be sent to the email address you have mentioned in your account detail. Enter your payment information and keep following further instructions given by the provider.
Step 4. Read "Package Details" Carefully and accordingly Finish Registration .So you have almost reached to the last steps where you can go through before your account creation is complete, choose the length of your web hosting registration, Choose addons and length. Getting a domain privacy protection is equally recommended.
Step 5: Website Set Up
After you've bought your domain name and hosting, you're now ready to get your website up and running.
Firstly you'll need to install WordPress to your hosting. There are two possible ways to install WordPress, one MUCH easier than the other, you can do it MANUALLY or USE ONE-CLICK INSTALLATION.
Create the database and eventually create a database password and username to access the database. Permit the database with the created user to alter,update,delete etc.
Step 6:Access FREE themes in WordPress
After getting your dashboard, you've got access to over 1500 free themes! Keep searching the sidebar for "Appearances", and click "Themes" for selecting the right one.
It has pretty good number of options as per your preferences like if you want something more professional or elegant you can select from ThemeForest.net which is a big theme library depending upon the cost and quality.
You can check out one more option which is Free WordPress themes. Yes u read it right it is free and easy. You can also use various filters to find themes that suit your style.
click on "Install" followed by "Activate" and here you have your theme successfully installed.
Further Options provided by WordPress for editing
Adding pages to the menu.
WordPress navigation.
Create a new category by going to "Posts.
Personalization of the Endless Tweaks….
Changing Your Title and Tagline.
Disabling Comments for Posts & Pages.
Website comments settings
Step 7: Static Front Page set up
When your home page looks like a blog post. You need to fix that by making your home page "static".
The basic function of the first static page is to show the same content each and every time some one comes to the website just like the home page you've created.
Step 8:Editing sidebar
WordPress themes have a sidebar on the right side sometimes it's on the left also.ages.
To edit items that you don't need like "Categories", "Meta" and "Archives", which are usually pointless, u can edit them.
You can also install Plugins to Get More out of Wordpress .
"Plugins" are extensions that are developed to expand WordPress in terms of its capabilities, adding features and functions to your site as they are not built-in.Plugin helps to extend various possibilities.
No need of building features from scratch as you can use shortcuts, Plugins could be used for everything right from adding photo galleries and form submission till optimizing your website and designing an online store.
You can create a list of the popular plugins that webmasters find useful.
Contact form 7: Contact form proves very useful on your About Me page. People can fill in the form with their email ids. If you are looking for something similar, definitely go for this plugin.
Yoast SEO for WP: If you are looking in for a more SEO-friendly website, this is the right plugin to opt for. It's free. You can edit your title tags, meta descriptions and more within the plugin itself no need of going through the WP setting on and on.
Google Analytics: Used only for tracking your visitors and the traffic with their behavior.You have to simply install the plugin, connect it with your Google account and its ready.
This is just a crux to understand the flow.
Now you are ready to click the publish button and become live ....
You now have a fully-functional WordPress website!Fully created by you
Last but not least – keep improvising your website!
On 15 Dec 2018